July 13, 2015
Community Law Center has created a new resource for those engaged in urban agriculture in Baltimore City. This manual consolidates and provides a brief overview of the laws, regulations, rules and policies involved in urban agriculture projects in Baltimore City. While not legal advice, the manual should point you in the right direction to understand and explore the legal issues you might encounter.
The manual provides the basics for:
1 – Getting Started
2 – Land Access and Use Restrictions
3 – Building Structures
4 – Accessing Water
5 – Keeping Farm Animals
6 – Distributing Produce
7 – Liability, Risk, and Insurance
8 – Employment and Labor Law
This manual is available for free download or to purchase a printed copy. This, and our other publications are available by clicking here.
If you are a nonprofit organization interested in farming, gardening or greening, Community Law Center may be able to provide you with free legal assistance. You can apply for legal services by clicking here.
Thank you to all of the farmers, urban and not urban, in Maryland who talked with us about their legal issues.
June 16, 2015
Check out this blog post, written by a Community Law Center volunteer, about the Senate Bill authorizing a tax credit in Baltimore City for supermarkets that move into the city's most food-insecure neighborhoods.
May 15, 2015
Guest Post by Robin Jacobs, Director, Strategic Legal Services Projects, Community Law Center
Urban agriculture opportunities come in many forms, but perhaps one of the most prevalent ones is simply right before us: in our yards.  Many people take great pride in their yards, even small yards in row home communities.  Expanding access to yard assets is a frequently overlooked aspects of urban agriculture. A carefully constructed side yard program allows for the expansion of private yards, and brings with it the pride and investments homeowners often make in their own green spaces.
As cities contemplate demolition programs, the question persists: what plans are there for post-demolition? In many instances, vacant lots, like the one below, pose a serious nuisance to the neighborhood.  Rats run rampant, high grasses and weeds hide drug stashes, and the lot may become a site for illegal dumping and trash.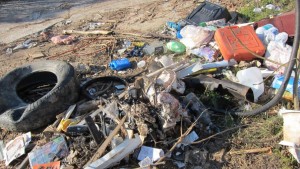 Maintained lots, on the other hand, can have many positive effects on a community. A study out of Philadelphia even found that greening of vacant lots may reduce violence.
One way to address the post-demolition problems of vacant lots while engaging and investing in remaining residents is through an active side yard program.  In Baltimore, the City's current side-yard program program, adopted in 2011, allows owners to purchase City-owned properties smaller than 1,500 square feet next door for $500. An article in Urban Affairs Review studied Saint Louis' side yard program, finding that maximizing side yard potential requires easing a number of barriers. Expanding side yard programs holds some promise for providing opportunities for small-scale private investment and preventing vacant lots becoming nuisances to neighborhoods.
October 2, 2014
In a public hearing before the Taxation, Finance and Economic Development Committee, members of Baltimore's City Council heard discussion about the proposed Council Bill 14-0420 to implement an urban agriculture property tax credit. Councilmember William "Pete" Welch and others introduced the first draft of the bill, which was then referred to a number of Baltimore City agencies for comments.
The proposed bill would allow property owners to access a 90% credit in property taxes owed to the City of Baltimore if the property is used for urban agricultural purposes. In April 2014, the Maryland General Assembly passed a law enabling Maryland counties and Baltimore City to enact a tax credit that encourages the use of private property for one or more of five urban agricultural purposes. These purposes include
1)      Crop production activities;
2)      Environmental mitigation activities;
3)      Community development activities, including recreational activities, food donations, and food preparation and canning classes;
4)      Economic development activities, including employment and training opportunities, and direct sales to restaurants and institutions; and
5)      Temporary produce stands selling on-site produce.
The proposed bill also limited this credit to urban agriculture projects that produce a minimum of $5,000.00 in agricultural products each year.
Prior to the October 1, 2014 hearing, each agency submitted its comments. The Department of Finance was the only agency that specifically opposed the tax credit, expressing concern that the credit could be abused. A representative of the Finance Department stated that, should the proposed tax credit be limited to properties that are exclusively used for urban agricultural purposes, the department would be more supportive of the proposal. After his statements, Abby Cocke of the Baltimore City Office of Sustainability took the floor and proposed a number of amendments to the bill under consideration. She said that these amendments were agreed upon between the Office of Sustainability and the Finance Department to both offices' satisfaction. The amendments included
1)      Adding definition in §10-18(A) for Urban Agricultural Products to further clarify what produce would be considered in calculating the $5,000 yearly yield.
2)      Removing the words "for-profit" from §10-18(C)(B) to limit the credit only to those properties that are used for an urban agricultural purpose and "may not be used for any other purpose that would subject the parcel to property tax liability."
3)      Adding language in §10-18(G)(2) to require any owner of property receiving the tax credit to pay back-taxes plus interest if the property should cease to be used for urban agricultural purposes within the five-year credit term.
4)      Switching department responsibilities in §10-18(H)(1) and §10-18(I)(1) to allow the Department of Finance control over "adopt[ing] rules and regulations to carry out this section, including the procedures, forms, and documentation required to apply for the credit and to periodically evidence continuing eligibility for the credit" and to require the Office of Sustainability to "analyze the public costs and benefits of the credits granted under this section and annually report … findings to the Board of Estimates and the City Council."
Because these amendments were introduced orally, Committee Chair Councilmember Carl Stokes proposed that any vote be postponed until the Committee had a chance to review the new proposed bill in writing. He suggested that, at the conclusion of the hearing, he would order a recess, and the public hearing will resume at a later date for further discussion and a vote.
A representative from the Baltimore City Law Department then offered her trepidations about the bill as proposed originally. She too refrained from offering any final opinion on the bill until she has the chance to review the amended version in writing. However, the Law Department explained that any additional qualifications proposed in Council Bill 14-0420 contradict the enabling state law. The representative pointed out that, by limiting the applicability of the credit to properties that are only used exclusively for urban agricultural purposes, the Council Bill goes against the letter of the state law. She also suggested that the word "imposed" upon the property, when referring to taxes owed in the credit's absence, be replaced with the word "due" because it allows the City more flexibility in case an error is made in the assessed taxes "imposed."
A group from Johns Hopkins Global Obesity Prevention Center offered their support of the proposed bill by presenting evidence that an increased number of urban agriculture projects within the city of Baltimore could have a substantial positive effect on the number of Baltimore children with access to fresh fruits and vegetables and who will choose to consume fresh fruits and vegetables. Several community members, including Community Law Center, then added their input on the proposal. At the conclusion of the hearing, Committee Chair Stokes ordered the hearing take a recess until such time that the Office of Sustainability distributes the amended bill proposal to all interested parties. The date for the reconvened committee meeting has not yet been set.
More information about the state enabling legislation that gives Baltimore City the authority to create this tax credit is available here.
June 30, 2014
As the summer heats up and the rain continues to pour down, you may be thinking about how to cool your house and reduce rainwater runoff. Green roofs (also called living roofs) are a great option to help keep pollutants out of the city's drain system and reduce flooding. Typical green roofs, which usually consist of provide a number of environmental and financial benefits retain 70 – 90% of precipitation and allow the water to distribute slowly through some runoff, evaporation, and transpiration through the plants. They protect your underlying roof from weather and sunlight, making it last longer and allow less heat into your home.
"Extensive" green roofs (as opposed to "intensive") allow for up to 6 inches of plant growth, utilizing hardy, drought-tolerant grasses and succulents that require very little maintenance once installed. Extensive green roofs can be installed on almost any roof, including small roofs over garages or sheds and sloped roofs. The only installation requirement is adequate reinforcement of the underlying roof. A typical extensive green roof weighs 30 pounds per square foot when saturated with water. According to Green Roofs for Healthy Cities' 2013 Annual Green Roof Industry Survey, Baltimore City ranked in the top 10 U.S. cities for green roof square footage. The city's most famous green roofs can be found atop the National Aquarium in Baltimore, the Maryland Science Center, and the city's only non-profit retirement community, Roland Park Place. Although the city does not provide any financial incentive to install green roofs, Blue Water Baltimore's Water Audit Program can provide a free assessment of your home and determine whether a green roof if possible and affordable.  As long as your green roof project conforms to its requirements, the Water Audit Program also offers rebates on the total cost of your project. Blue Water Baltimore has created a list of contractors in the Baltimore area with experience creating extensive green roofs on residential buildings.
Installing a green roof on your home typically costs between $15 and $30 per square foot, although the cost can be higher is your roof requires reinforcement. In Baltimore City, you are required to obtain a construction permit before installing a green roof. This can be done at the One Stop Permit Center at 417 E. Fayette Street, Room 100. There is a one-time, non-refundable application fee of $25.00 in addition to the permit fee. Generally, the permit fee will be charged at a rate of $10.00 per $1,000.00 of estimated costs for the project.
NOTE: If you live in a Commission for Historical and Architectural Preservation (CHAP) district, any exterior modifications to your residence must be approved by CHAP. Your permit application at Baltimore Housing will be forwarded to CHAP, from whom you must obtain a Notice to Proceed.
April 29, 2014
On April 5, 2014, the Maryland General Assembly passed the "Property Tax Credit – Urban Agricultural Property" bill authorizing Maryland counties and the City of Baltimore to implement a property tax credit for urban land used for agricultural purposes. The bill identifies Urban Agriculture Property to be any land larger than 1/8 acre and smaller than 5 acres, which is located in a priority funding area and used for urban agricultural purposes. "Urban agricultural purposes" means
1)      Crop production activities
2)      Environmental mitigation activities
3)      Community development activities, including recreational activities, food donations, and food preparation and canning classes
4)      Economic development activities, including employment and training opportunities, and direct sales to restaurants and institutions
5)      Temporary produce stands selling on-site produce
In 2010, the Maryland State Legislature adopted a similar bill authorizing the tax credit for properties used exclusively for urban agricultural purposes. In November 2011, however, Baltimore City Council declined to adopt such a credit, stating that it would set a bad precedent. The 2014 version, introduced on January 17, 2104 by Delegates Samuel Rosenberg (Baltimore City) and Jon Cardin (Baltimore County), is more inclusive than its 2010 counterpart, because it includes urban farmers who reside on their property or do not use the land exclusively for urban agricultural activities.
The bill is set to take effect July 1, 2014, pending the Governor's signature.  Baltimore City Council and the Mayor's Office will then have to consider whether to implement this tax credit in the City of Baltimore and, if so, determine
1)      The amount of the tax credit
2)      Any additional eligibility criteria
3)      Regulations and procedures for applications
When the first bill failed before the City Council in 2011, Councilmembers Mary Pat Clarke and Warren Branch proposed a 100% tax break for urban agricultural projects that promoted agriculture, preservation, or environmental education. Because the bill simply authorizes the City to offer this tax credit to the public, the specifics about who can qualify and how much the credit will be worth have yet to be determined. Other states, including California, have adopted similar laws allowing urban farmers the benefit of a tax credit. However, cities have yet to opt in to these programs and begin offering them to urban farmers.
Note: This blog post will serve as an update to the May 2012 post by Becky Witt.
April 3, 2014
On March 6, 2014, the Maryland General Assembly in both the House (HB0621) and Senate (SB0700) passed the third reading of the Registration of Pesticides Bill. This bill, which is set to go into effect of July 1, 2014, proposes financing a statewide pesticide database by charging chemical manufacturers an additional $10 (on top of the $100 fee required to register a chemical in the state). This database, once established, would allow scientists and the public to access information about the pesticides being used throughout Maryland.
A recent poll shows that Maryland residents strongly support the creation of this database. The bill is expected to raise $130,000 each year, which will begin by funding a survey of all pesticides being used in the State of Maryland, including which chemicals they contain, in what quantities they are administered, and where they are used. Maryland beekeepers circulated a petition in support of this bill, stating, "This [$10 increase] would be used to provide public health experts, wildlife and environmental scientists with data they need on pesticide use in the state to determine if and when pesticides are affecting our health, the Chesapeake Bay, and our honeybees and birds."
Lawmakers and environmental groups are concerned about rapid decline of Maryland's honeybee population, which is responsible for pollinating Maryland crops valued at $40 million. In the last year, the State of Maryland lost one-third to one-half of its honeybee population, at a rate significantly higher than the national average. But, beyond the belief that this is related to pesticide use throughout the state, Maryland scientists have not had access to the information necessary to determine the exact cause of the decline in honeybee populations.
Under current law, pesticide distributors are only required to register the name of their product with the Maryland Department of Agriculture and pay a $100 fee in order to distribute to professional pesticide applicators, such as farmers and lawn care companies. In 2013, legislation failed that proposed implementing a reporting requirement for all distributors and certified applicators. Instead, the amended 2013 bill created the Pesticide Information and Reporting Workgroup, which published its interim report recommending the database in January 2014. The new bill increases the fee to $110 and reserves the additional $10 for the Maryland Department of Agriculture's activities "relating to the collection, analysis, and reporting of data on pesticide use in the State."
March 28, 2014
Twenty-Second District Delegate Anne Healey introduced HB 1285, "Neonicotinoid Pesticides – Restricted Use," in the Maryland House Environmental Matters Committee on February 7, 2014. It is a relatively short bill, proposing only to reclassify the use of neonicotinoid pesticides as "restricted use" chemicals, meaning that only "certified applicators" would be permitted to use them. The bill was scheduled for a hearing on February 26, 2014. On the 25th of February, the hearing was cancelled, and two days later, the proposed legislation was withdrawn from Committee.
Neonicotinoids are chemical compounds that mimic the natural insecticide, nicotine, by acting on the central nervous system, causing interference with nerve cell processes, paralysis, and eventual death. Neonicotinoid pesticides are used to treat seeds, and the chemicals are known to accumulate in the pollens and nectars of plants.
A European Union (EU) report found that three neonicotinoids (clothianidin, imidacloprid, and thiametoxam) expose bees to acute and chronic risks to "bee colony survival and development," "effects on bee larvae and bee behaviour," and "risks posed by sub-lethal doses," causing the EU to ban the use of neonicotinoid pesticides for two years starting in December 2013. Since the European Union report came out, the U.S. Environmental Protection Agency (EPA) has taken steps to protect honeybees in the U.S. from the harmful effects of neonicotinoid pesticides, including changing labels on pesticide chemicals that contain neonicotinoids, innovating new ways of conducting planting activities to minimize dust drift, and collaborating with state agencies to train and certify pesticide applicators. The EPA also accelerated the review process for six neonicotinoid compounds in its Registration Review Program.
On February 26, 2014, Smart on Pesticides Maryland, a coalition of beekeeping, clean water, farming, and environmental organizations, issued a letter of support for the restricted use bill, saying that it "will make a significant impact by eliminating consumers' use of products that include neonicotinoids."
Delegate Healey said in an article in The Prince George's Post, "These poisons should only be handled and applied by trained professionals who will use the minimum amount necessary. It is not safe for untrained people to use them in residential areas – or really anywhere, since bees travel as far as five miles to pollinate and can carry the poison back to the hive where it can weaken or kill the entire hive." The Maryland House Environmental Committee did not release an explanation for why the bill was withdrawn before its first public hearing. Attempts to contact Delegate Healey about the bill have been unsuccessful.
March 20, 2014
In February 2014, Baltimore City Councilmember Mary Pat Clarke introduced an amendment to the proposed Zoning Code Rewrite, which may have an impact on community gardens and urban farmers throughout the city.
The proposed zoning code, without the amendment, provides a new name for community gardens – Community Managed Open Space (CMOS). CMOS means any open-space area that is maintained by more than 1 household and is used for growing fruits, vegetables, and plants. Under this definition, community-operated agriculture projects would qualify as a CMOS as permitted use in almost every zone of the city. (See April 26, 2013 post for more about CMOS and the difference between CMOS and "Urban Agriculture"). Included in this permitted use would be sites with livestock (as long as they follow Health Department Regulation), weekly farm stands, and compost processing using off-site materials.
However, Councilmember Clarke's amendment proposes to create two categories of CMOS, retaining the previous definition for CMOS (community garden), which would still be permitted use, and creating CMOS (inclusive), which makes any projects that include livestock, a farm stand, or receipt of compost from off-site as conditional uses.
Councilmember Clarke wrote that she proposed this change because she believes neighbors should have an input on whether community agricultural projects keep livestock and animals, sell produce from a farm stand, and collect composting material from off-site.
If this amendment is adopted into the zoning code rewrite, community-managed agricultural projects throughout the city will need to obtain special permission from the zoning board. A hearing before the zoning board costs $250.00 for a weekday hearing at which the zoning board has the discretion to grant or deny conditional use permits. The public hearing allows community members to give input, and voice objections, to any proposed conditional uses.
As the Baltimore City Council moves forward to refine the CMOS regulations, it will have to balance the interests and concerns of neighboring community members who wish to ensure the quiet enjoyment of their neighborhoods with the interests of community gardeners and urban farmers who wish to expand the experience of growing food in Baltimore City.
March 14, 2014
Honey bee populations nationwide have decreased by a third each year since 2006, a phenomenon the United States Department of Agriculture (USDA) attributes in part to a phenomenon called Colony Collapse Disorder (CCD). Nearly sixty percent of Maryland's honey bee population disappeared in winter 2013, causing scientists to question why the state's honey bees suffer from such a dramatically increased mortality rate. In the same year, Baltimore City Health Department amended its Animal Regulations, making it easier for Baltimore residents to keep honey bees by waiving the permit application fee because honey bees "contribut[e] to public welfare as pollinators sustaining a diverse variety of food crops."
Keeping bees in Baltimore City requires a remarkably simple registration process. In order to keep honey bees on a residential property in Baltimore City, prospective beekeepers need to (1) register and apply for a permit with the Baltimore City Health Department's Animal Control  and (2) register with the Maryland Department of Agriculture. Hives can be kept in any zone throughout the city as long as beekeepers conform to the space restrictions (no more than two colonies and one nucleus colony on lots up to 2,500 square feet and hives kept either against a solid, five-foot wall or five feet away from any lot line); do not keep hives where they are accessible to the general public; and honey bee movement to and from the hive does not interfere with the the property of others. Honey bees may be kept in yards, on porches and balconies, on roofs, or anywhere urban beekeepers can accommodate them.
In California, agricultural industries that rely heavily on honey bee pollination, such as avocado and almond, have dramatically suffered from the rapid decline of honey bees. It now takes sixty percent of the entire United States honey bee population just to pollinate California almonds, and honeybees are brought in from other states to do the job. Honey bees in Los Angeles are thriving. This is likely because there are fewer pesticides in the city than in agricultural areas and honey bees have access to a greater diversity of plants rather than the monocrops found on large agricultural sites. However, LA's beekeeping policies lag behind many other cities that are working to increase healthy honey bee populations. On February 12, 2014, after a rigorous campaign to on behalf of urban beekeeping in LA, City Council passed a motion approving a study on the subject. Two-dozen neighborhood councils throughout LA support the proposal. The study will consider legalizing urban beekeeping in areas with single-family homes. On the same date, LA City Council passed a motion requiring the city to look into alternatives to extermination when dealing with "nuisance hives." The State of Maryland includes one such alternative in its registration process. Private beekeepers can sign up to be put on a registry to receive calls for removing honey bee swarms, removing honey bee nests in walls of buildings, and removing yellow jacket and hornet nests. In the same vote, LA City Council also decided to support a federal bill that proposes a moratorium on the use of particular pesticides until they are shown not to cause "unreasonable adverse effects" on pollinators.
As lawmakers and advocates throughout the country attempt to change policies that may contribute to the decline of honey bee populations, scientists are working hard to identify the causes. With Baltimore at the forefront, urban beekeepers throughout the country continue their stewardship to help support a healthy honey bee population.