Thank you to Baltimore's community leaders!
You do what needs to be done for your neighborhoods. You volunteer your time to make blocks cleaner, safer places to live. It is usually a thankless job.  We want to say "THANK YOU" from Community Law Center. It is an honor to work with you.
New Resource for Baltimore's Community Associations Available Now!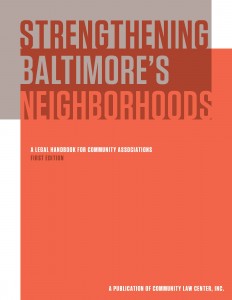 Community Law Center has created a new manual especially for Baltimore's community associations. "Strengthening Baltimore's Neighborhoods: A Legal Guide for Community Associations," will help community leaders run more efficient and effective meetings, update bylaws, maintain the organization's corporate status, utilize laws designed to help neighborhoods, and much more! To order a printed copy, click here!
Just in time for Spring!
Community Law Center releases a free new resource for urban greeners:
Legal Tools for Urban Agriculture in Baltimore City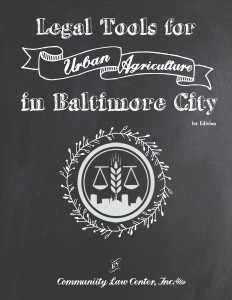 As urban agriculture continues to grow in Baltimore City, it is important that groups intending to start urban agriculture projects are familiar with the legal tools available to them. This manual is designed to educate individuals that either currently operate or intend to create an urban agriculture project in Baltimore City. Topics covered include choosing an organizational structure for the project, gaining legal access to land and complying with regulatory restrictions on the land, accessing water for the project, complying with laws regarding keeping animals in the city, distributing produce and farm products, protecting the project from liability, and hiring employees to work on the project. A free copy of the handbook can be downloaded here!
Free download from Community Law Center:
The Community Association's Guide to the Development Process in Baltimore City.
This is free for download or you can purchase a printed version here.
New development can bring all sorts of things to a community – new housing, commercial or retail space, industrial or manufacturing uses, schools, and parks. Sometimes these are resources the residents of the community need, and at other times, residents do not see their needs reflected in the proposed development. Sometimes a community may seek simple, minor changes to the development plans. Other times, a community may seek major changes to development plans, based on concerns about construction noise, traffic disruption, damage to their homes, local hiring, environmental pollution, and other impacts on quality of life. Regardless of whether the community supports or opposes the planned development, community organizations need a voice in the decision-making process from the outset.
This manual provides a basic overview of the development process in Baltimore City and advises community leaders about ways to insert themselves into the process. Community organizations should contact Community Law Center as soon as possible when development related issues arise, as legal representation is often highly advisable and every situation requires advice specific to the circumstances involved.
Community Law Center provides updated information on our operations on this website as well as on www.Guidestar.org.