New Draft Animal Regulations for Baltimore City!
Baltimore City recently released a draft set of updated regulations for urban animal husbandry.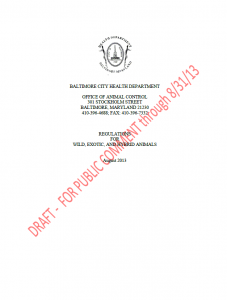 AC Reg – Wild Exotic Hybrid Animals – August 2013 – DRAFT FOR COMMENT (3)
Above is a link to the draft regulations. Comments are due to the Animal Control office of the Baltimore City Health Department by August 31, 2013.
What do you think of these new regulations?
Posted on August 14, 2013 by Becky Witt
Comments are closed.