Baltimore City's newly adopted urban agriculture policy.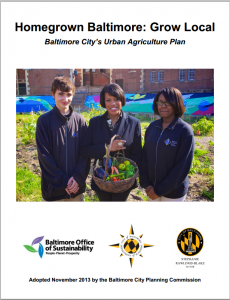 In November 2013, the Baltimore City Planning Commission adopted Baltimore City's first urban agriculture plan. The plan's stated purpose is "to increase the production, distribution, sales, and consumption of locally grown food within Baltimore."
Check out the text of the new urban agriculture plan, uploaded to the Baltimore Office of Sustainability's website.
The plan's recommendations include specific suggestions to attain five goals: (1) strengthening urban land tenure; (2) improving the system for obtaining access to water; (3) improving and remediating soil; (4) providing access to capital for small businesses; (5) and supporting local farmers and gardeners through advocacy, training, and engagement. It contains ambitious suggestions about how to improve Baltimore's Adopt-A-Lot license system, animal regulations, and zoning code to encourage the production and consumption of local food.
Many of the suggestions, if implemented, would take control and resources from city agencies and put them in the hands of communities and private citizens. The plan would also require inter-agency cooperation among several city agencies, including the Department of Housing and Community Development (DHCD), the Baltimore Office of Sustainability, the Department of Public Works (DPW), the Mayor's Office, the Board of Municipal Zoning Appeals (BMZA), and the Health Department, not to mention the public-private partnerships with nonprofit entities and private foundations.
The policy plan mentions Community Law Center's Urban Agriculture Law Project throughout the document as a resource for farmers and gardeners who have questions about the legal aspects of urban agriculture, and CLC is certainly eager to be involved in the process of making Baltimore a more urban agriculture-friendly city. There are many moving parts in this plan, but, if implemented, the suggestions included in the plan could significantly improve the production and consumption of healthy local food in Baltimore City.
Posted on December 20, 2013 by Becky Witt
Comments are closed.