Sustainability Through Side Yards
Guest Post by Robin Jacobs, Director, Strategic Legal Services Projects, Community Law Center
Urban agriculture opportunities come in many forms, but perhaps one of the most prevalent ones is simply right before us: in our yards.  Many people take great pride in their yards, even small yards in row home communities.  Expanding access to yard assets is a frequently overlooked aspects of urban agriculture. A carefully constructed side yard program allows for the expansion of private yards, and brings with it the pride and investments homeowners often make in their own green spaces.
As cities contemplate demolition programs, the question persists: what plans are there for post-demolition? In many instances, vacant lots, like the one below, pose a serious nuisance to the neighborhood.  Rats run rampant, high grasses and weeds hide drug stashes, and the lot may become a site for illegal dumping and trash.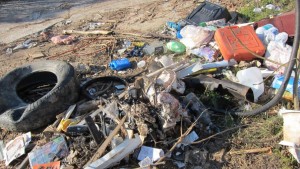 Maintained lots, on the other hand, can have many positive effects on a community. A study out of Philadelphia even found that greening of vacant lots may reduce violence.
One way to address the post-demolition problems of vacant lots while engaging and investing in remaining residents is through an active side yard program.  In Baltimore, the City's current side-yard program program, adopted in 2011, allows owners to purchase City-owned properties smaller than 1,500 square feet next door for $500. An article in Urban Affairs Review studied Saint Louis' side yard program, finding that maximizing side yard potential requires easing a number of barriers. Expanding side yard programs holds some promise for providing opportunities for small-scale private investment and preventing vacant lots becoming nuisances to neighborhoods.
Posted on May 15, 2015 by Kristine Dunkerton
Comments are closed.