Community Law Center has materials written specifically to assist leaders of small nonprofit organizations in Maryland. Below are some materials that you may find helpful. You may also wish to check our workshops, clinics, and training schedule for additional opportunities to learn more about the legal tools available to assist your nonprofit organization.
First things first! Make sure your organization is on solid ground with bylaws that clearly define how your organization will make decisions. You can learn more by clicking here: Bylaws 101
How to Start a Nonprofit Organization in Maryland (8th edition, 2016)
A guide for general audiences to the legal and organizational issues relating to starting a new nonprofit organization and obtaining tax-exempt status from the IRS. The manual includes sample documents.
To purchase this item for $30 plus tax and $4 shipping & handling, click here.
Nonprofits of every size must file paperwork with the government regularly for many reasons, including to maintain incorporation and tax-exempt status. This calendar may be helpful in keeping your organization in compliance.
Beat the (regulatory) heat this summer by checking to ensure your nonprofit filed all required paperwork with the Maryland State Department of Assessments and Taxation (SDAT) and the IRS. To conduct activities in Maryland and accept tax-deductible donations, a nonprofit should keep its charter in good standing and its 501(c)(3) status intact.
Starting a new organization is not an effort to be undertaken lightly. Once your group has determined that a new organization is necessary to fill an unmet need, there are many decisions to be made and a great deal of paperwork to be completed. This checklist can help your group stay on track.
If assigned an attorney through Community Law Center, your organization may be represented by one of Community Law Center's staff attorneys or by a member of the private bar who has volunteered time and resources to work with your organization. In either situation, the following information should help ensure that your organization understands what is involved in working with an attorney, which will help your organization in receiving the best services for its legal needs.
Legal Tools for Urban Agriculture in Baltimore City (1st edition, 2015)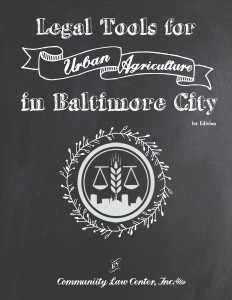 As urban agriculture continues to grow in Baltimore City, it is important that groups intending to start urban agriculture projects are familiar with the legal tools available to them. This manual is designed to educate individuals that either currently operate or intend to create an urban agriculture project in Baltimore City. Topics covered include choosing an organizational structure for the project, gaining legal access to land and complying with regulatory restrictions on the land, accessing water for the project, complying with laws regarding keeping animals in the city, distributing produce and farm products, protecting the project from liability, and hiring employees to work on the project.