Community Law Center has materials written specifically to assist leaders of neighborhood associations. Below are some written materials that you may find helpful. You may also wish to check our workshops, clinics, and training schedule for additional opportunities to learn more about the legal tools available to assist your community association.
You can also click on the links below to view videos of the following presentations: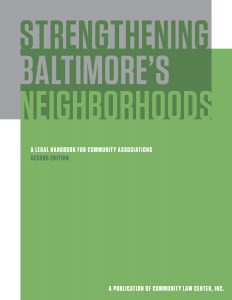 Community Law Center has updated our manual created especially for Baltimore City's community associations. "Strengthening Baltimore's Neighborhoods: A Legal Guide for Community Associations," will help community leaders run more efficient and effective meetings, update bylaws, maintain the organization's corporate status, utilize laws designed to help neighborhoods, and much more! To order a printed copy for $25 plus $4 shipping, click here!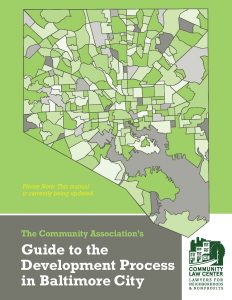 This manual provides a basic overview of the development process in Baltimore City and advises community leaders about ways to insert themselves into the process. Community organizations should contact Community Law Center as soon as possible when development related issues arise, as legal representation is often highly advisable and every situation requires advice specific to the circumstances involved.
The updated 2019 version is Free for download.
Printed copies of the first edition (2013) are available for free pick up from Community Law Center or for the cost of shipping. Please call 410-366-0922 to inquire about availability. The first edition was written prior to the zoning code update and do not contain current zoning code references and other updates.
A CBA is a binding agreement between a developer and an organized community group regarding a specific development project.  Learn how your community can use this tool for equitable development.
An alley full of garbage. A breeding ground for rats. An empty lot that now resembles a landfill. A collapsed, dangerous row home. These are just a few of the various manifestations of blight that can come from just a single nuisance property. Fortunately, community associations can do something about these properties, even if the owner refuses to take responsibility or City code enforcement is unable to address it. The Community Bill of Rights statute (Md. Code Ann., Real Prop. § 14-123) authorizes Baltimore City community associations to seek the enforcement of many Baltimore City Code provisions.
Is your community association involved in a community garden? If so, the Community Law Center can help you determine you navigate legal obstacles and secure legal rights.
Community Law Center has received questions from community associations entering Adopt-a-Lot license agreements primarily regarding two issues: liability and license termination. This document contains brief explanations of these provisions of the license agreement. These explanations do not constitute legal advice, but are merely intended to be informational. A group seeking specific legal advice regarding its Adopt-a-Lot project should consult an attorney.
SCENARIO: A privately-owned vacant lot in Baltimore City is covered with three-foot weeds and overgrown shrubs and trees, creating a haven for rats. Additionally, trash is strewn throughout the property and a few individuals have started to use the lot as a dumping ground for unwanted tires, sofas, and so on. A group of concerned neighbors is tired of looking at the eyesore and wants to clean it up. Furthermore, they would like to turn the lot into something attractive and productive for the community, to ensure that it does not return to the current situation once it is cleaned up. WHAT CAN THE COMMUNITY DO ABOUT THIS SITUATION?
If assigned an attorney through Community Law Center, your organization may be represented by one of Community Law Center's staff attorneys or by a member of the private bar who has volunteered time and resources to work with your organization. In either situation, the following information should help ensure that your organization understands what is involved in working with an attorney, which will help your organization in receiving the best services for its legal needs.
Legal Tools for Urban Agriculture in Baltimore City (1st edition, 2015)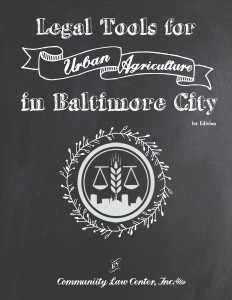 As urban agriculture continues to grow in Baltimore City, it is important that groups intending to start urban agriculture projects are familiar with the legal tools available to them. This manual is designed to educate individuals that either currently operate or intend to create an urban agriculture project in Baltimore City. Topics covered include choosing an organizational structure for the project, gaining legal access to land and complying with regulatory restrictions on the land, accessing water for the project, complying with laws regarding keeping animals in the city, distributing produce and farm products, protecting the project from liability, and hiring employees to work on the project. Free for download.