Community Law Center is pleased to offer the following publications for purchase.
How to Start a Nonprofit Organization in Maryland (8th edition, 2016)
A guide for general audiences to the legal and organizational issues relating to starting a new nonprofit organization and obtaining tax-exempt status from the IRS. The manual includes sample documents.
To purchase this item for $30 plus tax and $4 shipping & handling, click here.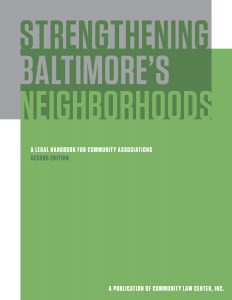 Community Law Center has updated our manual created especially for Baltimore City's community associations. "Strengthening Baltimore's Neighborhoods: A Legal Guide for Community Associations," will help community leaders run more efficient and effective meetings, update bylaws, maintain the organization's corporate status, utilize laws designed to help neighborhoods, and much more! To order a printed copy for $25 plus $4 shipping, click here!
The Community Association's Guide to the Development Process in Baltimore City
This manual provides a basic overview of the development process in Baltimore City and advises community leaders about ways to insert themselves into the process. Community organizations should contact Community Law Center as soon as possible when development related issues arise, as legal representation is often highly advisable and every situation requires advice specific to the circumstances involved.
Printed copies of the first edition (2013) are available for free pick up from Community Law Center or for the cost of shipping. Please call 410-366-0922 to inquire about availability. The first edition was written prior to the zoning code update and do not contain current zoning code references and other updates.
Legal Tools for Urban Agriculture in Baltimore City (1st edition, 2015)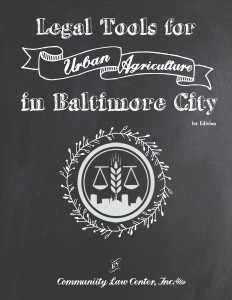 As urban agriculture continues to grow in Baltimore City, it is important that groups intending to start urban agriculture projects are familiar with the legal tools available to them. This manual is designed to educate individuals that either currently operate or intend to create an urban agriculture project in Baltimore City. Topics covered include choosing an organizational structure for the project, gaining legal access to land and complying with regulatory restrictions on the land, accessing water for the project, complying with laws regarding keeping animals in the city, distributing produce and farm products, protecting the project from liability, and hiring employees to work on the project. Free for download.